Cartagena Hilton Hotel
Located on the tip of El Laguito Peninsula, the Cartagena Hilton Hotel is surrounded by water on three sides. The hotel is situated in 15 minutes from Rafael Nunez International Airport and in 8 minutes to the Historic Walled City.
The hotel grounds include pools, jacuzzis, and lavish tropical gardens. The Cartagena Hilton Hotel has its own convention center with a capacity of 1,500 in the main ballroom. Also, 12 additional meeting rooms make the Cartagena Hilton Hotel the ideal venue for conventions.
The surrounding gardens and grounds have a capacity for up to 2.000 people. The Cartagena Hilton Hotel is located near the residential areas, shopping, restaurants, jewelry stores, bars, and casinos. Besides, the hotel specializes in outside catering in the historical sites of the Old City.
Rates
| ROOM | BEST AVAILABLE RATE | ADVANCE PURCHASE | US GOVT. RATE | WORLDWIDE GOVT. RATE |
| --- | --- | --- | --- | --- |
| Double Guest room | 195.00 USD | 170.00 USD | 190.00 USD | 220.00 USD |
| Double Guest room PLUS | 205.00 USD | 180.00 USD | | 230.00 USD |
| Double Deluxe | 210.00 USD | 185.00 USD | 190.00 USD | 235.00 USD |
| Double Executive | 225.00 USD | 200.00 USD | 225.00 USD | |
Rooms
Standart
The Cartagena Hilton Hotel offers its guests 288 comfortable rooms. All rooms at the Hilton Cartagena have panoramic view over the Caribbean Sea, or the magic ancient walled city.
With a complete modern renovation, the decorations reflect tropical charm and peaceful ambience on curtains, bedspreads, cushions, and pictures. All rooms have writing desks endowed with a lamp and typical rattan chairs.
King or twin accommodations with rollaway are available. Amenities include shampoo, hand cream, bath cap, sewing kit, and black shoe polish. These romantic, peaceful, and modernly designed rooms to provide complete comfort for travelers.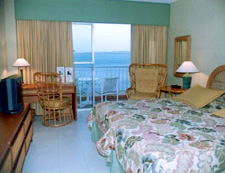 Standard Room Amenities include:
Air Conditioning
Balcony
Bathroom Amenities
Clock Radio
Electronic Locks
Hairdryer
Safe
Telephone - Voice Mail
TV-Premium HBO,CNN,ESPN
Alarm Radio
Bathrobe
Bidet
Connecting Rooms
Electronic Smoke Detector
Internet access in guest room
Telephone - in Bathroom
TV-Cable
Bars & Restaurants
Cafeteria Las Chivas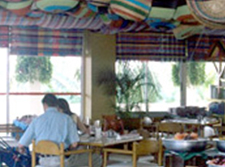 A beautiful ocean-front restaurant, perfect for breakfast, lunch, snacks and dinner. Las Chivas offer a wide range of regional and international dishes in a typical ambience, decorated with colorful baskets in keeping with the traditional Chiva Bus.
Tinajero Steak & Seafood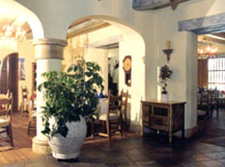 This fine dining room with its water fountain and balconies has the enchanting ambience of an old colonial mansion of the 16th century. Their specialties include grilled seafood dishes, various meats, and local cuisine. It's the very best steak and seafood house in the city.
Kiosco Tibabuyes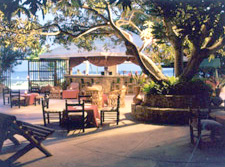 On the gardens and under mango trees, the Kiosco Tibabuyes is the place for hamburgers, skewers, salads, light snacks, tropical drinks, fresh aphrodisiac seafood cocktails and sherbet.
Services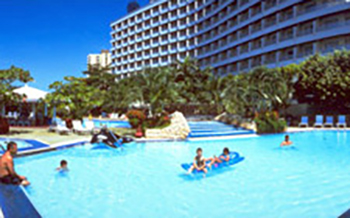 Conveniences for the Traveler
Laundry/Valet Service
Beauty Salon
Clothing Store
Elevators
Florist
Foreign Currency Exchange
Guest Activity/Recreation Desk
Safety Deposit Box
Room Service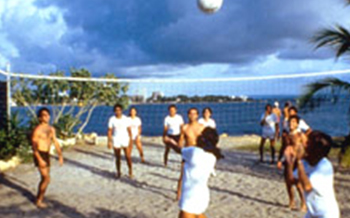 Recreation & Fitness
Pool
Beach
Jet Skiing
Basketball
Water Skiing
Tennis Court
Hotel Hilton Cartagena Location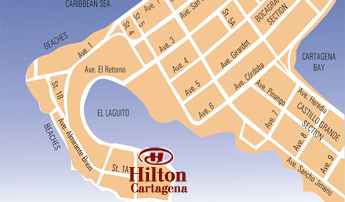 Hotel Hilton Cartagena Location
Rosario Islands, 50 mi. W
16th Century Walled City, 5 km. N
San Felipe Fortress, 6 km. E
La Popa Monastery, 8 km. E
Matute Botanical Garden, 25 km. E
Heredia Theatre, 5 km. N
Gold Museum, 5 km. N
Inquisition Palace, 5 km. N
El Totumo Volcano, 50 km. NE
Bocachica Fortresses, 25 mi. S
Rafael Nunez Museum-House, 6 km. E